About Orchard Realty
---
The Orchard Realty Team Supporting the Julian Backcountry Culture and Lifestyle.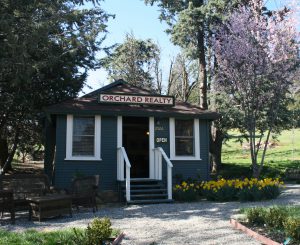 Orchard Realty is proud to offer a variety of Julian real estate opportunities to fulfill your varied real estate needs. Steve and Deborah Kerch offer knowledgeable and extensive experience in the Julian real estate business.   Broker Steve Kerch brings to the agency 30+ years of knowledge and business expertise in the area of commercial and industrial real estate investment and asset management.
Since 2003, Deborah Kerch has closed over 23 million dollars in gross real estate sales in Julian. She has gained a good solid reputation as a skilled agent, and has formed lifetime professional and personal relationships. Orchard Realty is the proud sponsor of many local small-town events and activities, including the Fourth of July Parade, the Julian Padres Little League baseball team, the Julian Family Fiddle Camp, American Legion's "The Dance," the  Volcan Mountain Foundation, and other local events and nonprofit groups. Orchard Realty's office is located in a charming 1920's classic Julian cottage next to Orchard Hill Country Inn.
A Variety of Backcountry Properties and Experiences Can be Yours.
The San Diego East county mountain and desert back country offers wonderful opportunities to live and enjoy the country life.  Whether you are in the market for a small cottage, a cozy rustic cabin, a small ranch, a spacious horse property, secluded romantic getaways in Borrego, or an apple orchard, we know the back country and will assist you with all your needs.  Orchard Realty is proud to showcase mountain and forest properties in Julian and Alpine, lakeside properties in Cuyamaca, rolling hillside properties in Warner Springs and Ranchita, and desert properties in Shelter Valley and Borrego Springs. Whatever it is, we look forward to helping you find your dream spot in the charming town of Julian and surrounding communities. 760-765-1000.